Have you just received confirmation from the Government of Canada that you can settle in Canada?
Get a head start and receive the information and training you need before you even arrive in Canada. Here are some tools and services that will help you succeed in French in Canada, regardless of the province or territory. Do not hesitate to contact them for support.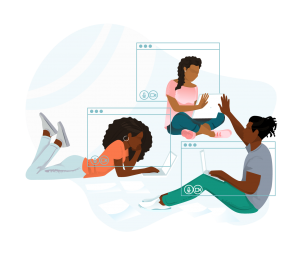 A national service
FrancophoneConnections.ca is the one-stop shop for French-speaking prospective immigrants (outside Quebec) who have received their Canadian unique client identifier (UCI) or Confirmation of Permanent Residence (COPR). This website offers free personalized services: listening, support, referral, information, training, webinars, etc. It also organizes virtual job fairs, which provide an opportunity to interact in real time with Canadian employers; everything you need to maximize your socio-economic and cultural integration before you arrive in Canada!
Regional services
Manitoba, Saskatchewan, Alberta and the Northwest Territories
Accueil francophone's pre-departure service is intended for future permanent residents who want to prepare for their arrival in terms of employment, housing, health care, community, family life, etc. Accueil francophone provides information to future immigrants through regular and personalized exchanges. It assesses needs, makes referrals to specialized regional partners and offers employment support services.
Prince Edward Island, New Brunswick, Nova Scotia, and Newfoundland and Labrador
Pre-Arrival Services Atlantic provides settlement services, community connections, job-search assistance and economic integration for newcomers (permanent residents, refugees, skilled workers, provincial nominees and their dependants).
British Columbia and Western Canada
La Passerelle Ouest offers free and confidential settlement, integration and employment services to Francophone immigrants who settle in British Columbia or Western Canada. These services are available to permanent and temporary residents (temporary workers and foreign students), refugees and foreign-born Canadian citizens.
Ontario
Actions interculturelles provides a support service to the holders of a Confirmation of Permanent Residence before they arrive in Ontario. This pre-departure service can evaluate needs, make connections with partners in different regions of Ontario, facilitate settlement and job search in the province, provide access key resources for launching an entrepreneurial venture, and establish a community connection for better socio-economic integration.